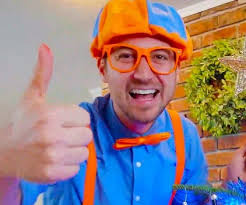 | Net Worth: | $16 Million |
| --- | --- |
| Date of Birth: | May 27, 1988 (35 years old) |
| Gender: | Male |
| Profession: | children's entertainer and educator |
| Nationality: | United States of America |
What is Blippi's net worth? How does Blippi make his money? Below is the current net worth of Blippi and how Blippi makes his money.
What is Blippi's Net Worth?
Stevin John who is popularly known as Blippiis an American educator and children's entertainer who has a net worth of $16 million. In 2020, Moonbug Entertainment purchased him along with other children's programming.
He was popularly known for his character, his blue and orange attire, and his childlike spirit, he was seen in educational kid's videos streamed on Hulu, Netflix, YouTube, and Amazon Video.
Early Life
Stevin John was born in Ellensburg, Washington on 27 May 1988. He was born Stephen J. Grossman. He was always surrounded by tractors, horses, and cows, stoking his curiosity because he grew up on a farm.
As an adult, he aspired to become a limo driver, pilot, and fighter. In 2006, John joined the United States Air Force on active duty. In 2008, he completed his Air Force.
Career
In January 2014, He published his first Blippi video. He was inspired when his two year old nephew was watching a low quality YouTube videos. Moonbug Entertainment partnered with Virgin Media to bring Blippi and other Moonbug programs to the UK in October 2020.
Jazwares created "My Buddy Blippi," a plush toy that can recreate 15 of the character's sounds and phrases in early 2020. The franchise was purchased by Moonbug Entertainment, and the show was dubbed in such languages as  German, French, Hebrew, Italian Arabic, and Spanish in 2020.
Blippi launched an educational toy line in January 2021. In March 2021, the show expanded to Southeast Asia, when Moonbug partnered with POPS Worldwide to bring children's content to the POPS Kids app.
The Blippi character was portrayed by Stevin John until May 2021. Clayton Grimm, who played Blippi in live performances on 8 May, performed as Blippi for the first time on the channel and would host as an alternative Blippi with John.
Moonbug announced the addition of a new character named Meekah (played by Kaitlin Becker) on 9 October 2021. On 1 December 2021, the spin-off series Blippi's Treehouse started airing, on Amazon Kids+, with two more characters, Scratch and Patch (both are puppets).
Blippi The Musical is a live show produced by Round Room Live in partnership with Moonbug Entertainment, scheduled to tour North America in the summer of 2021. In January 2022, Netflix acquired the streaming license to Blippi. Blippi merchandise also includes clothing, toys, books, and more.
Here on Networthforum, we calculate all net worths using data drawn from public sources. Most times, we incorporate tips and feedback received from the individuals or their representatives.
While we always strive to ensure that our figures are as accurate as possible, please note that they are only estimates, unless otherwise indicated.
This page is updated from time to time so that our readers will know the current net worth of Blippi. So feel free to check back for the current Blippi net worth in case of any update on his net worth.