The popularity of women's football is increasing at an astounding rate. In many of the top female competitions, speculators can now find women's football betting odds, much to the delight of soccer fans worldwide.
There is now a foundation for female soccer to succeed with countries like England and Brazil paying men's and women's international teams equally.
Modern sport includes finances as a natural component. The highest-paid male soccer players make exorbitant amounts of money each week, and the highest-paid female players also make good money.
Below are the top 10 highest-paid female soccer players and their salary 2022.
1. Carli Lloyd- $518,000 Yearly
No one can argue that Carli Lloyd deserves to be the highest-paid female football player in the world with an exhibition of remarkable consistency.
For the most part, Carli is recognized for her outstanding performance for the US national team, but she has also demonstrated her talent on the biggest stage of them all.
Carli has a remarkable 123 goals in 294 international matches, which makes her a popular choice in today's football predictions tips at major competitions.
Although her $518,000 yearly salary is hardly comparable to that of an all-time great given what she has accomplished throughout her career, she does top the list of the highest-paid female football players.
Soon, Carl's career is coming to an end, she has encouraged young girls all over the United States to pursue their passions in women's soccer.
2. Sam Kerr-$500,000 Annually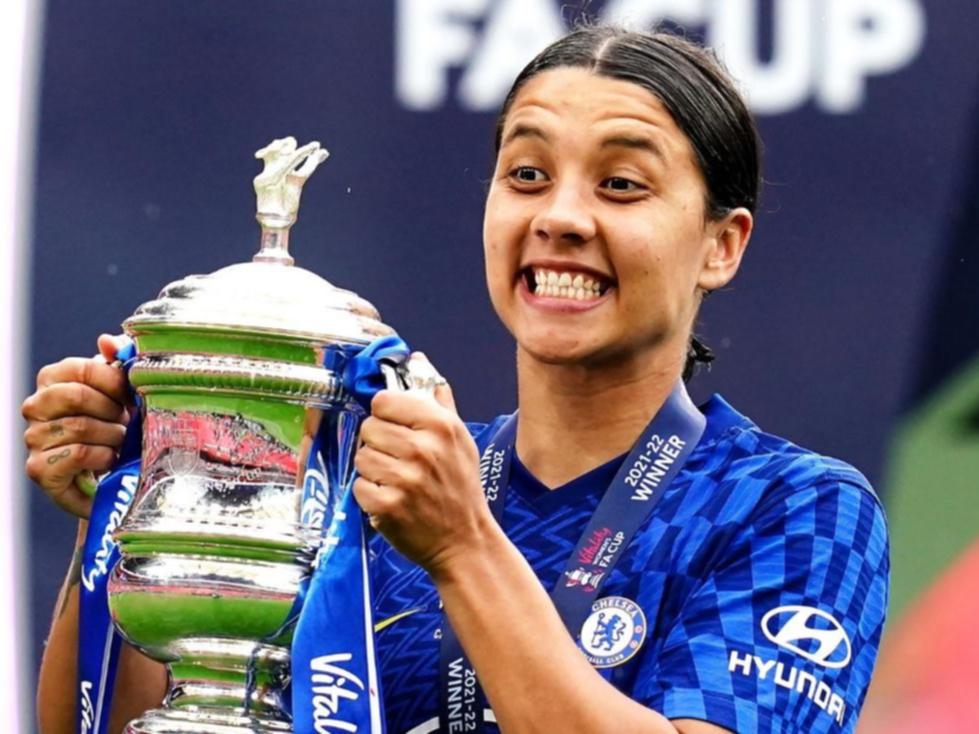 Kerr is an experienced player who is currently working for Chelsea under a lucrative contract. There are conflicting reports regarding the exact amount, with some speculating that the contract is worth $500,000 instead of the reported $410,000 per year.
She is undoubtedly among the highest-paid female soccer players in the world. The 26-year-old is the leader of Australia's women's national team and is already Nike Australia's face.
For Kerr, there are no limited boundaries. As of 2019, only American star Carli Lloyd has scored more goals overall in the NSW and Australian W-League than Kerr.
 3. Alex Morgan-$450,000 Per year.
Alex Morgan, arguably the biggest icon in women's soccer, currently plays for Tottenham Hotspur in the Women's Super League. She is the female football player on Instagram with the most followers.
Morgan's annual base pay, which is close to $450,000, is by no means a high one. Her major endorsement contracts with brands like Coca-Cola, Nike, and McDonald's actually account for the majority of her income.
She has been active on social media for years and has been featured on the front cover of two different FIFA soccer video game editions.
Alex Morgan has acquitted herself admirably at the top of the football world, becoming well-known throughout the globe for her outstanding performances on the field.
 4. Megan Rapinoe-$447,000 annual salary.
Megan Rapinoe, a star for the United States, is well-known to anyone who watched the 2019 FIFA Women's World Cup. She won the Best FIFA Women's Player award in 2019 and has risen to fourth on the list of female athletes earning the highest salaries in 2022.
In the same year, Megan also won the coveted Ballon d'Or Feminin, two achievements that helped her earn a sizable $447,000 salary. She is regarded as a sports legend and a trailblazer for change at the highest level of women's soccer.
Despite being sponsored by Nike, Megan Rapinoe is unable to crack the top three female footballers in terms of pay.
5. Julie Ertz-$430,000 per year
Julie is the fifth-highest-paid female soccer player in the world this year, per financial data. According to the most recent annual salary data, she makes $430,000, which puts her above Ada Hegerberg in income.
In addition to playing for the American women's national team, Ertz is a star for the Chicago Red Stars in the National Women's Soccer League. One of the most reliable female soccer players is Julie Ertz, a two-time FIFA Women's World Cup champion.
After aiding her nation in winning the Women's World Cup, Julie was actually named the U.S. Soccer Female Player of the Year in 2019. She is a key player for her club and country and one of the best female football players in the world.
 6. Ada Hegerberg-$425,000 per year.
Ada Hegerberg is one of the most well-known figures in women's soccer and the highest-paid female football player in 2019. She is enough to sway expert betting predictions in a football game just by being on the field.
The Norway star, who is also the sixth highest-paid player in women's football, competes for Lyon at the club level, like many other players on this list.
Although Ada's salary is listed as $425,000 for 2020, she also receives a sizable sum of money from a variety of sponsorship agreements. Her contract with Nike makes her one of the most well-known athletes in the sport.
7. Marta Vieira da Silva-$400,000 per annum
Marta, who is arguably the most well-known female footballer of all time, is seventh among female soccer players with the highest salaries in 2020.
The legendary Brazilian player is still displaying her talent on the biggest stage while representing Orlando Pride in the NWSL.
Marta received six FIFA World Player of the Year awards, five of which she received continuously from 2006 to 2010.
She also played a significant role in the Brazil teams' success at the Olympic Games in 2004 and 2008.
Marta is without a doubt one of the all-time greats; the great man himself has dubbed her the female Pele. In contrast to some of her peers, she is underpaid with a yearly salary of $400,000.
8. Amandine Henry-a yearly salary of $394,500
Next on our list of the highest-paid female soccer players in 2020 is Amanda, a pillar in the middle for France. With a yearly salary of $394,500, She earns slightly more than teammate Wendie Renard of France.
The 2015 FIFA Women's World Cup Silver Ball winner plays club soccer for Lyon, and she is among the first names listed on the roster, like the majority of France's prominent athletes.
Amanda is indispensable as the leader of France's national team.
In order to put her income into perspective, Paul Pogba is the eighth highest-paid male footballer in 2020. Pogba's annual salary is 58 times greater than Amanda's, despite the fact that both players for France- According to a statistic that shows the discrepancy between male and female soccer players' pay.
9. Wendie Renard-earning $392,000 a year
Renard has accomplished everything; she has won French championships, European Cups, and spots on numerous All-Star teams. Wendie is this year's ninth-highest-paid female football player, earning $392,000 a year.
Wendie Renard, one of the most accomplished players in women's club football, has dedicated her entire playing career to Lyon. she a defender is known for her goal-scoring prowess, and is a special talent in both men's and women's football.
Wendie will be remembered as one of the greatest players at her position even though a World Cup continues to elude her. She towers over her peers at 6 feet 1 and is a great value for her high salary.
10. Christine Sinclair-$380,000 yearly salary.
The highest-paid female football players in the 2022 list include Christine. While representing Portland Thorns of the National Women's Soccer League (NSW) at the club level, the 37-year-old captains the Canadian national team.
She currently holds the record for both male and female players in terms of the most international goals scored (186).
Furthermore, over the course of her illustrious career, Christine Sinclair has won the Canada Soccer Player of the Year award 14 times.
Christine is the 10th highest-paid female soccer player in the world, though, with a $380,000 yearly salary. She ranks among the athletes of her generation in terms of her influence and impact on the game.