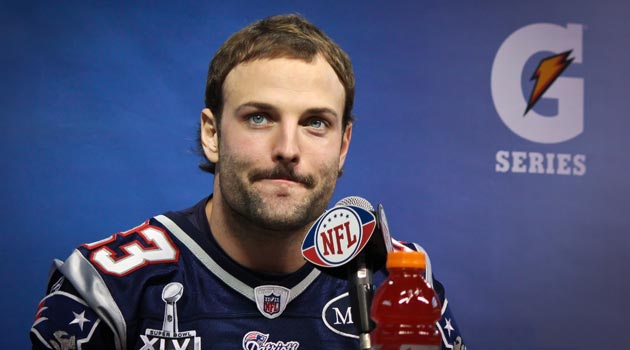 | Net Worth: | $25 Million |
| --- | --- |
| Date of Birth: | May 1, 1981 (42 years old) |
| Gender: | Male |
| Height: | 5 ft 8 in (1.75 m) |
| Profession: | Football player and Coach |
| Nationality: | United States of America |
What is Wes Welker's net worth? How does Wes Welker make his money? Below is the current net worth of Wes Welker and how Wes Welker makes his money.
What is Wes Welker's Net Worth?
Wes Welker is an American professional football coach and former wide receiver who has a net worth of $25 million. Coach Wes Welker oversees the Miami Dolphins wide receivers. He has worked as an assistant coach for the Houston Texans and San Francisco 49ers. Welker played for the Dolphins, Denver Broncos, St. Louis Rams, and New England Patriots during his stint as a football player. With the latter team, he creates multiple franchise records.
Early Life
Wes Welker was born on 1 May 1981 in Oklahoma City, Oklahoma. At Heritage Hall High School, where he played football as a kid, Welker helped his team win the 2A State Football Championship. With 174 receptions for 2,551 receiving yards and 27 receiving touchdowns, he concluded his high school career with 3,235 rushing yards and 53 rushing scores. He recorded 581 tackles and 22 interceptions on defense.
Collegiate Career
Wes Welker enrolled at Texas Tech University, where he played for the Red Raiders football team. During his first year, he He had 17 kickoff returns and 26 receptions for 334 yards. He had five touchdowns and 582 yards on 50 receptions as a sophomore. With 86 receptions for 1,054 yards and seven receiving touchdowns, Welker had his greatest season in 2002.
Miami Dolphins
Welker, who went undrafted in the 2004 NFL Draft, eventually signed with the San Diego Chargers as an undrafted free agent; however, he was dismissed following the first game of the season. The Miami Dolphins, where he later signed, initially mostly utilized him on special teams.
New England Patriots
In 2007, Welker was transferred to the New England Patriots. He went on to enjoy his best season in the NFL up to that point, setting three career highs for single-game yardage. He ended the year with a league-high 123 receptions, which is the second-highest total in NFL history.
Denver Broncos
In March 2013, Welker struck a deal with Denver Broncos Despite sustaining a concussion and a neck injury in his debut season with the squad, he had an extraordinarily great performance. He subsequently assisted in leading the Broncos to their third AFC championship victory of his career and the Super Bowl XLVIII. He also toured with the Broncos to the divisional round, where they were defeated by the Indianapolis Colts.
St. Louis Rams and Retirement
Welker reached an agreement with the St. Louis Rams in late 2015. That season, he went on to play for the team in eight games and registered 13 receptions for 102 yards. He announced his retirement in 2017 and this was his last season playing in the NFL.
Coaching Career
Welker began his coaching career at the beginning of 2017 when the Houston Texans employed him as their offensive assistant and special teams assistant coach. Welker joined the San Francisco 49ers in 2019 as their wide receivers coach after that period. He held that role for three years before moving on to coach wide receivers for the Miami Dolphins.
Personal Life
Wes Welker got married to Anna Burns in 2012. The couple has three children.
In Oklahoma City, Welker manages a nonprofit organization that uses sports and positive role models to help at-risk youngsters. Undrafted, a gelding racehorse that he also owns, has participated in a number of events.
Here on Networthforum, we calculate all net worths using data drawn from public sources. We often incorporate tips and feedback from individuals or their representatives.
While we always strive to ensure that our figures are as accurate as possible, please note that they are only estimates, unless otherwise indicated.
This page is updated from time to time so that our readers will know the current net worth of Wes Welker. So feel free to check back for the current Wes Welker net worth in case of any update on his net worth.